Der ,,flexible Lift´´
This lift can be installed quickly and easily without any further preparation on almost any slope.
Flat load lifts for slope solutions
Your specialist for stairlifts, platform lifts, slope lifts.
With this solution we can carry loads over long stairs and slopes. Very steep slopes with varying gradients can also be overcome with this special lift. Even vertical solutions are possible. It goes without saying that the lift can also travel across the land (grassland or paths). Customised cabins, available with different variants and options. The lift can travel very discreetly and very flat over the ground or floor. The track can even be "invisibly sunk into the ground", if so desired. We have numerous alternatives with cable or gear drive.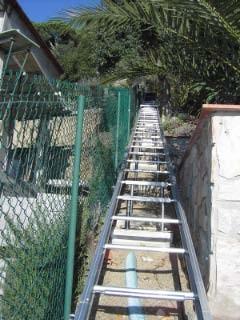 We deliver and install throughout Europe.
More pictures and information on request. Contact