Dezente Kabinenlifte
With this lift, we can respond individually to your needs. Whether you want open, semi-open or enclosed cabins - we have the solution.
If you would like more information please give us a call or send us an e-mail.
Contact
Individual lifts for stairs and slopes solutions
Your specialist for stairlifts, platform lifts, slope lifts.
With this solution we can carry people and loads over long stairs or terrain. Whether it is over straight or curved routes, or up vertical or steep gradients. Customised cabins, available with different variants and options. Our cabin lifts are very quiet and their travelling comfort is unsurpassed. The track supports are assembled on existing stairs or on a corresponding point or strip foundation. Surely a globally unique solution - discreet and unobtrusive!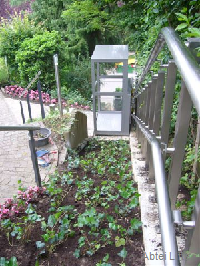 We deliver throughout Europe!
More pictures and information on request.
Learn More